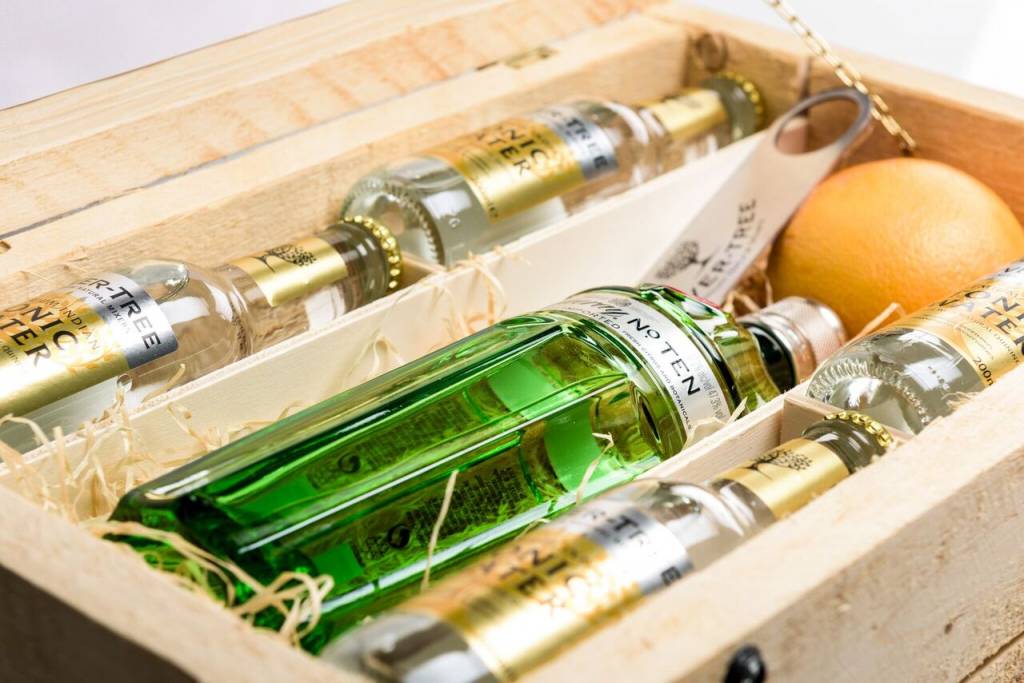 ---
Nice gift pack with a mix of Tanqueray gin and Fentimans Pink Grapefruit tonic tonic topped with a slice of grapefruit. In addition, Bombay Sapphire gin with Fentimans Indian tonic. To be served in the glass that comes with it.
Tanqueray gin mixed with Fever-Tree Indian tonic to garnish with a slice of grapefruit and a few juniper berries. Bombay Sapphire with Fever-Tree Medittarenean tonic and a slice of lime
Enough for more than four delicious gin & tonic. Box with custom wooden interior 1x Tanqueray gin 0.35L 2x Fever Tree indian tonic 2x Fever Tree elderflower tonic 1x opener Garnish consisting of dried grapefruit, lime, lemon and juniper berry
Tanqueray gin: citrus fruits predominate
Charles Tanqueray, the developer of Tanqueray gin in 1830, is a man with a daring mind, according to the manufacturer. He created a much award-winning gin and has conquered the world with it. Tanqueray has marketed three types of gin: Tanqueray London Dry gin, Tanqueray No. 10 and Tanqueray Rangpur gin.
It started in London in 1830
Tanqueray No. 10 is named after the small kettle in which it was distilled. Incidentally, this gin is still distilled in the 'tiny ten'. An extra amount of citrus makes this gin a fresh variant. White grapefruit is one of the citrus fruits used, lime and orange the other two. Of course, this gin also has the taste of juniper berries, although less juniper berries are used for this gin than for the Tanqueray London Dry gin, for example. The subtle flavors of coriander and chamomile flowers also make the Tanqueray ten a gin with full character. For the history we go back to 1830. In that year Charles Tanqueray started his distillery in Bloombury, a district of London. After his death, son Charles Waugh Tanqueray took over the company. In 1898 Tanqueray Gin merges with Gordon & Co. As Tanqueray Gordon & Co they continue together in Gordon's company. Soon the Tanqueray gin is exported to the United States, where the drink is still very popular and it is even the most imported gin. It is 1922 when the company is taken over by a Scottish company: Distillerd Company. In the Second World War, the London distillery fell victim to German air raids. Only Old Tom, a still, was spared. Production continued in the new distillery, which was built in 1957. Since then, the company has changed hands several times, nowadays Tanqueray gin is marketed by distiller Diageo.
Citrus fruits are important to Tanqueray gin
The original Tanqueray London Dry gin can be called fresh. The undertone of various herbs such as angelica and coriander seeds make it spicy. The taste of lemon is also important in this Tanqueray gin. Tanqueray gin is distilled four times. Tanqueray Rangpur gin is the third type of gin made in the Tanqueray distillery. An extra ingredient has been used for this gin: rang purple. A rangpur is a cross between a lemon and a tangerine. Tanqueray Rangpur gin is called a sweet gin by connoisseurs. The bottles in which Tanqueray gin is sold are reminiscent of a cocktail shaker. This is not surprising, Tanqueray gin is ideal for making a gin and tonic cocktail. Mixed with tonic and fresh ingredients such as grapefruit, the flavor of the gin comes out best. Other cocktails also have a good basis with Tanqueray gin. Tanqueray gin has been used extensively in dry martini cocktails throughout history. This became especially popular after a campaign intended to provide publicity. Celebrities like Sammy Davis Jr, Frank Sinatra and Bob Hope were lovers.
Tanqueray gin in our packages
Our range includes Tanqueray gin in various gin and tonic gifts. Tanqueray Ten Gin for example. The bottle resembles a great green 'cocktail shaker' and contains 0.7 liters of Tanqueray Ten gin. The package is complete with eight bottles of Fever Tree Indian tonic, an opener and a fresh grapefruit. Tanqueray Ten Gin is ideally suited as a luxury corporate gift or a fun birthday present for the true gin lover. Gin tonic gift. Gin tonic box, the Gin tonic gift