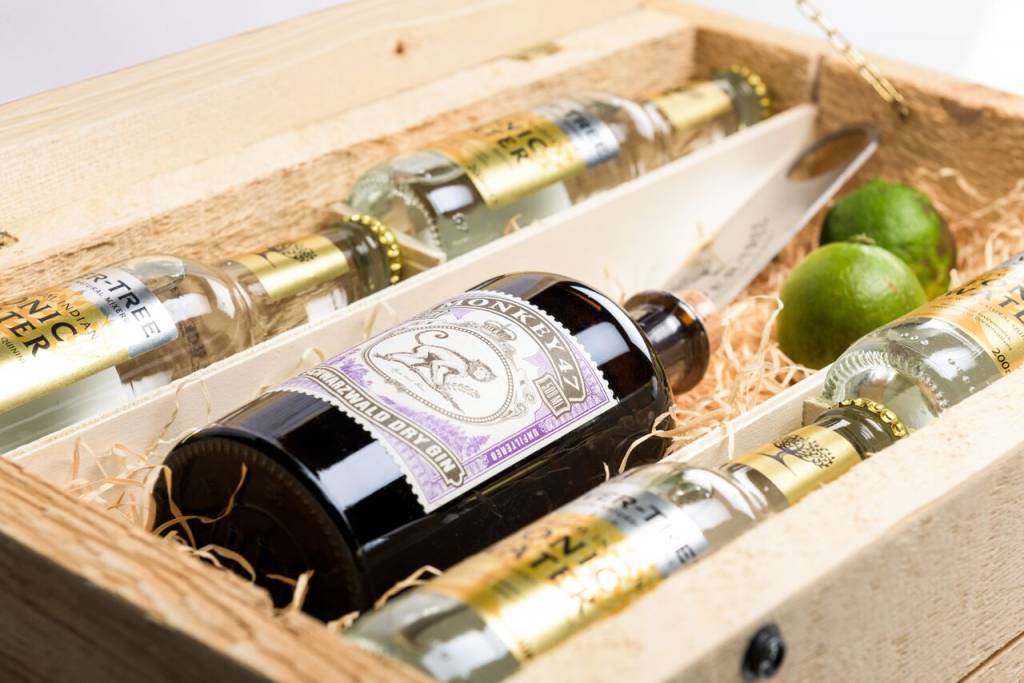 ---
This cardboard box contains a layout specially made for 2 gin and tonics. The box contains a mini bottle of Hendrick's gin, a mini bottle of Monkey 47 gin and two bottles of Fever-Tree Indian tonic. Furthermore, the box contains an opener and garnish to m
Luxury wine box with handmade interior 1x Monkey 47 gin 0.5L 2x Fever Tree indian tonic 2x Fever Tree mediterranean tonic 2x Beautiful tumbler glasses 1x Opener Garnish consisting of dried lime, lemon, cardamom and juniper berries
Bombay Sapphire gin and Fever-Tree Indian tonic add a slice of lime and you have a delicious mix. Monkey 47 from the Black Forest with Mediterranean tonic and lemon. This box has a luxurious glass to serve it in
Monkey 47 gin: influences from Southern Germany and India
Monkey 47 gin is consumed all over the world. With its 47 different ingredients, it can be called a unique gin. Monkey 47 originated in Southern Germany, in the Black Forest. Many of the herbs are found in the Black Forest. The gin also has clear influences from India. This influence can still be found in the taste of the spicy gin.
47 ingredients make a gin of size
It is after the Second World War when Montgomery Collins in Germany starts to work on the reconstruction of the country. After retiring from the Royal Air Force, he takes over "The Wild Monkey" inn in one of the Black Forest valleys. In those regions it is very common to distill fruit. Because Collins has a passion for Great Britain, he brews a gin with fruit that he names after his house. At the beginning of this century, Alexander Stein rediscovers the story of Monkey gin. He learns that the gin not only has Black Forest ingredients, but also some native ones. When Stein comes into contact with a Christoffer Keller, a distiller who is good at distilling exotic fruit, they bring new life to Monkey gin together. With 47 different ingredients, the addition of this magnificent number to the brand name is not so strange. Monkey 47 gin is distilled in a traditional way. Additional ingredients are added after distillation. Characteristic ingredients of Monkey 47 gin are, for example, liquorice, lavender and sage. When Collins selected licorice root as one of the herbs in his gin, licorice root was best known to be used to treat coughs, hoarseness and stomach problems. Lavender was also known for medicinal properties and sage was mainly used by Collins to combat excessive sweating. Monkey is based on soft spring water, extracted in the Black Forest. Most herbs were also hand-picked in the Black Forest, except for a few Indian herbs. Typical South German herbs are angelica, acacia flowers, blackberry leaves, lingonberries and fir shoots.
Pharmacy bottle with characteristic monkey
Considering the medicinal plants in Monkey 47 gin, it is perhaps not surprising that a bottle of Monkey 47 gin looks like a medicine bottle. The dark brown bottle with cork is reminiscent of the bottles that used to be in a row in the pharmacy. A special drawing of a characteristic monkey can be found on the label. The link to the Black Forest is still present, Monkey 47 is also called Schwarzwald Dry gin. Connoisseurs call the Monkey 47 Dry gin a complex, rich, but also smooth gin, which is difficult to categorize. Together with Fever Tree tonic you can make a real 'Monkey 47 Fever Tree', a gin tonic that you must have tasted.
Gintonicbox.nl and Monkey 47 gin
In our range you can find different packages that include Monkey 47 gin. For example, you can opt for the Monkey 47 Gin package, which contains, in addition to a nice 50 cl bottle of gin, eight Fever Tree Indian tonics, a lime and an opener. In addition to the South German gin, the Monkey 47 & Sipsmith package also contains another top-quality gin: Sipsmith. Our packages are unique because of the handmade wooden boxes in which the ingredients are beautifully stored. Anyone looking for luxury business gifts or a gift with a story has found exactly what they are looking for with a package with Monkey 47 gin and tonic.