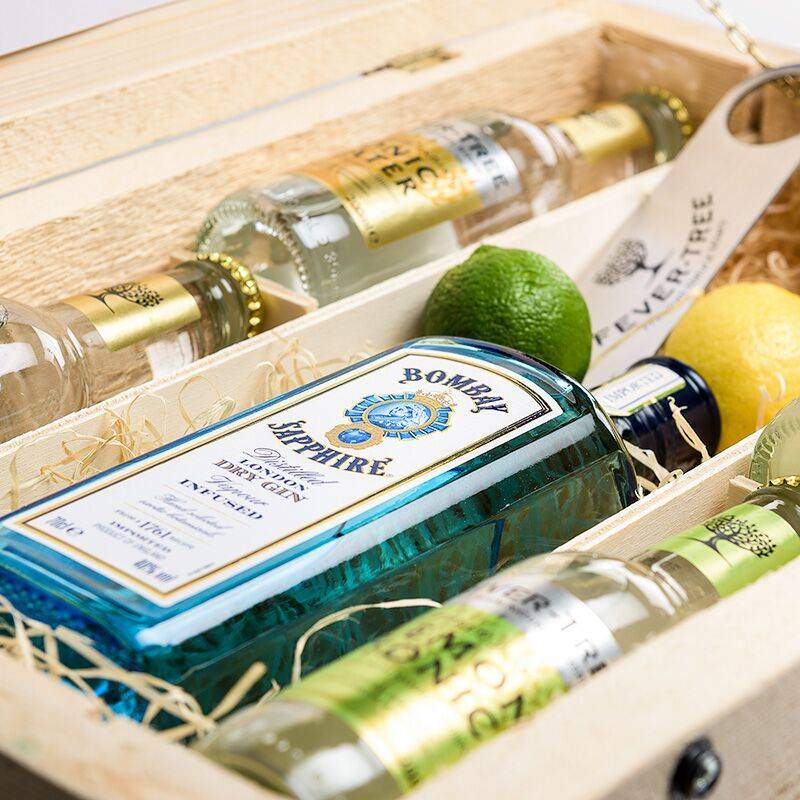 ---
Bombay Sapphire: a gin with a story
If you are looking for a nice gin that is made with passion, you should try Bombay Sapphire gin. Where other gins cook the ingredients together, this gin is made with steam infusion. No less than ten recognizable flavors make this gin special. Aromatic and balanced are two key words of the special gin.
Bombay Sapphire gin: the genesis
In the 50s of the last century, two friends came up with a recipe for the perfect gin. One of the men discovered an authentic recipe for gin from 1761 and together with renewed techniques they went to work. Eight herbs were selected and by means of steam infusion, a traditional process, an original English gin was made. A neutral grain distillate was evaporated and, by passing the steam along the special spice mixture in copper kettles, a gin was created in which complex aromas were retained. The aromatic and balanced Bombay Original Dry gin was born. It took another 30 years for Michel Roux to experiment with Bombay gin. He added only two extra herbs, making the gin even more spicy and an even more specific taste. This new gin was named Bombay Sapphire, named after the sapphire-colored bottle where the drink was sold. On the label of the bottle is the image of Queen Victoria, a link to England, the country where the drink has traditionally arisen.
The specifics of Bombay Sapphire gin
Whoever drinks Bombay gin will recognize various aromas. One of the most important ingredients is of course the juniper. The berries in Bombay gin come from Tuscany and give the gin a fragrant and spicy aroma. Lemon peels of sweet and juicy, hand-picked lemons is one of the other important ingredients. These peels are hung to dry in Mediterranean sea air. This is important for the specific taste in Bombay gin. Coriander gives an important taste of citrus to Bombay and makes the gin has vitality. Other important flavors are the root of the iris flower (crushed into a fine powder with a floral aroma), almonds (give a silky taste), licorice (harvested in China), angelica (for an earthy tone) and cassia bark. This last seasoning is a family of cinnamon, but has a somewhat more refined taste. Cassia bark is dried bark from Indonesia, which gives a slight warm softness to the gin. The last two added flavors are the herbs that Bombay Sapphire gin made: paradise grains and tail pepper grains. Paradise grain is a spice, family of ginger and is also called malaguena pepper. The grains offer a spectrum of exotic flavors and are reminiscent of pepper with lavender. Tail pepper grains have a fresh but powerful taste and are also called cubebepeper. Tail Pepper is a kind of berry with a floral aroma, reminiscent of rose and lavender. The combination of flavors certainly makes us curious, so we can especially recommend tasting this gin.
Bombay Sapphire gin tonic: our packages
Bombay Sapphire gin is available in some of our original gifts in various price ranges. For example, Bombay Sapphire Gin is a package in which the premium gin is combined with Fever Tree Indian tonic and fresh lime. With these ingredients a true Bombay Sapphire cocktail can be made. In package Hendrick's & Bombay Sapphire the gin is combined with a gin of another brand: Hendrick's. Of course, the Fever Tree Indian tonic is not lacking, as are cocktail ingredients licorice and lime. If you give this package as a birthday present, you give the girl the chance to taste two beautiful gins in beautiful gin tonic combinations. Package Bombay Sapphire & Lemon Tonic has two types of tonic: Fever Tree Indian tonic and Fever Tree Lemon tonic. In addition, of course, the accompaniment is provided: lime, lemon and licorice are included. By trying different flavor combinations, you can discover what your favorite Bombay Sapphire cocktail is. The final package with Bombay Sapphire gin is Bombay Gin & Lemon Tonic. This is a smaller package with a bottle of Bombay, Fever Tree Lemon Tonic and a licorice stick. An original Fever Tree opener is delivered with all packages. The ingredients for gin tonic are perfect for putting together original business gifts. Anyone who presents a package of gintonicbox.nl gives a gift with a story in handmade boxes.